I'd like to offer folks who buy a copy of Storms of Destiny as a holiday gift, the chance to get the book signed and I will pay part of the return postage

Anyone who wants a copy of Storms of Destiny signed, with a Christmas or other holiday season message, should send the book, plus five 37 cent postage stamps, to me at:

Ann Crispin
P.O. Box 522
Bryantown, MD 20617

Please don't forget to include the shipping address and the instructions for personalizing the book. I will sign the book, personalize it, and ship it out, via Media Mail rate, immediately!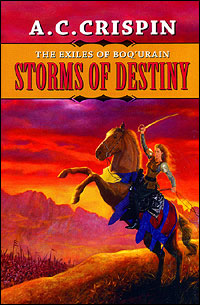 Anyone who does this should drop me a note to say they've done it, so I can make sure to track the receipt of their book. Oh, and this offer obviously applies to domestic US postage only, I'm afraid. Overseas is just too expensive.

Signed, personalized books make wonderful holiday gifts!

-- Ann